Let me apologize for my almost 1 month absence from blogging.
As I mentioned in an earlier post, my brand spanking new Lenovo Yoga laptop had developed a mind of its own. It became increasingly frustrating to try an type or load pictures with the cursor just taking off and opening new tabs, typing strangely encrypted messages, and making the funny looking bubbles appear all over the screen! My daughter and I attempted to research (Google) the problem and found there were others having the same problem.  We followed some of the suggestions, but to no avail. It continued and even got worse!
One of the things I am learning here in Egypt is that the name of the game is hurry up and wait!
So my son-in-law takes the computer to a friend of his with an IT company and they have it for a few days. When he brings it back, it is supposed to be OK, but its not. The problem persists. Now granted, the computer is less than 2 months old, bought from Best Buy in Woodbridge, VA and STILL under warranty! So I start doing some digging on how to get my warranty honored internationally.
I happened to have seen a Lenovo sign on the facade of a store across from one of the supermarkets where we shop. Another few days go by and we visit this establishment that is JUST a retail outlet and not an authorized dealer. We are told there is a Lenovo dealer at Cairo Festival City Mall, one of my favorite places to visit!
A few days later,
I take a taxi to the Mall with my grandson in tow as my translator, only to be told that THEY too are only a retail outlet and the dealer is in Madinat ul Nasr – NOT one of my favorite places to visit! It is one of the first "suburbs" of Cairo and where my daughter lived on my first visit in 2004.  It is full of resources fro EVERYTHING you need but the place is a ZOO.
Try rolling the Bronx, Brooklyn, Long Island, Queens, AND a little of Manhattan (including Harlem) all into one and there you have Madinat ul Nasr! It will definitely engender in you a love/hate relationship with it.  The fact always remains that ANYTHING you need and ALL of what you want can be found there. But to navigate that place takes more patience and GPS guidance than the law allows!
I must admit that I am somewhat a creature of habit.
So all this back and forth with MY computer sort of turned me off from using a computer.  And I kept thinking each "fix" of MY computer was just a day or so away.   Then we went away on a 4-day HOLIDAY to the North Coast on the Mediterranean Sea at Porto Martruah!
(My next post will be more pics and updates of the vacation!)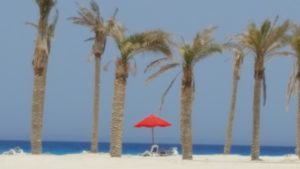 Now back from vacation, my son-in-law has taken the computer to the Lenovo dealer. They have registered the warranty and received confirmation that they can fix, replace, the computer or maybe even refund me my money!
A gentle email I received today from one of my followers inquired as to why I had not blogged in almost a month. I was not even aware that anyone was even READING my blogs! It would be nice to get a comment or 2 about the posts on a daily basis so that I at least know there is some interest in what I have been posting.  So this has prompted me to use my daughter's  laptop to keep you updated until the issue with mine is resolved.
NEVER MISS A POST: SIGN UP NOW
Show Muriel some love by signing up for the Mailing List.
BTW – It is the 2nd day of Ramadan and all is well.
Ramadan Mubarak!